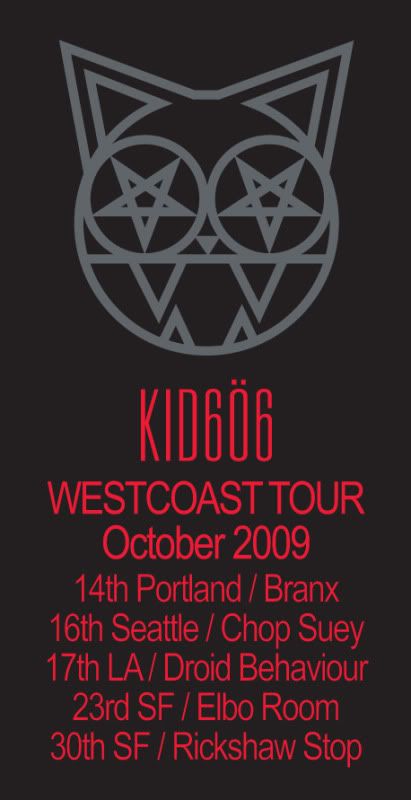 Shameless is proud to welcome back to Seattle Tigerbeat6's own – and Berlin-native Kid606, as part of this Friday's Where The Wild Beats Are party at Chop Suey!
Honestly, the sound that Kid606 puts out encompasses everything I strive for as an electronic music aficianado: it signifies a definitive middle finger to the notion of what the genre "should be" or, especially, the presumption that it should always cater to the lower common denominator. Quite the opposite: Kid606 seems to want to take all of his influences, throw them into a blender, and take handfuls of the resulting porridge, throw them onto a wall, and not only sees what sticks but, most notably, sticks together. In short, Kid606 doesn't give a fuck about current musical trends – he just keeps pushing the boundaries of what electronic music could – and should – do, regardless of scrutiny and conformity.
The signature Kid606 sound – that throbbing, unrelenting, pace that perennially sticks around 140 bpm – is firmly rooted in an undeniable in-your-face approach to techno that never loses interest. This is best evident in his remix of Luke Anger's "Work That Mod," where he starts out with a frantic 140+ bpm beat pattern that quickly unfolds into a metallic cornacopia of otherworldly echoes, blips & syncopated rhythms that, just after the one minute mark evolves into a kick-ass shuffle beat. But by the two minute mark, the track turns a corner that loops deliciously creepy noises – and in the process creates a beyond futuristic future funk and aural treasure trove of techno for the ages.
Luke Anger – Work That Mod (Kid606 Remix)
The mind fuck that is "Roppongi Nights" drifts rhymically into dubstep territory but just enough to dip Kid606's proverbial toes into the proverbial dubstep water. Undeniably, it's still his sound, the collection of aggressive beats, warm yet sinister synths that seem to serve as the "hook" (as though there was such a thing), and yet you're still hooked and up on your feet dancing and losing your mind to the track. It's a hell of a phenomena, really.
Kid606 – Roppongi Nights
Much as been covered about his "Mr. Wobble's Nightmare" track (especially the video that accompanies the original track – see below), but the Acid Jacks remix perhaps helps funktify the track for the dancefloor
Kid606 – Mr. Wobble's Nightmare (Acid Jacks remix)
His videos are as bold, inventive, and playful as his music. Check out the video for his track "The Illness" here, featuring amazing black-and-grey animation that tells the story of a cat and a stolen laptop:
The video for "Mr. Wobble's Nightmare" is a stop-animation tale that involves fruit and a rave gone very, very bad:
Here's a taste of his DJ mixes:
Kid606 - Outland Westcoast Tour Mix
1 Kid606-Samhain Atlanta Intro
2 John Oswald-Cyfer/Depeche Mould
3 Missy Elliot-Pass that Dutch (acapella)
4 Cardopusher-Pupusa
5 Comatone-An Absorbing Color (Ebola Refix)
6 Ward 21-Bang Bang
7 16 Bit-Jump
8 Kanji Kinetic-Scientist
9 Zomby-Mescaline Cola
10 Shark Slayer-So Sincere
11 DJ Blaqstarr-Automatic Lover
12 Joy Orbison-Hyph Mngo
13 Green Velvet-Earthquaker (Original Mix)
14 Zomby-Polka dot
15 Si Begg-Free
16 Mr. Oizo-Positif (The Exo 'What The Fuuuck' Remix)
17 Green Velvet-Answering Machine
18 Polygon Window-Surfing on Sine Waves
More info at:
www.tigerbeat6.com
www.myspace.com/kid606