FRIDAY NIGHT!! WHERE THE WILD BEATS ARE @ CHOP SUEY!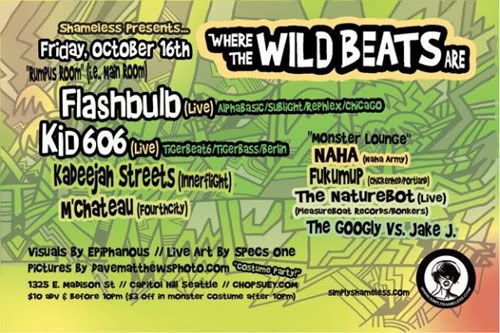 Opening up the party is The Googly vs. Jake J.!
You absolutely must come early to hear The Googly vs. Jake J tag-team opening set. Check out their preview
here
(message from The Googly)
"So to get ready for a epic tag team match at Chop Suey this friday, we hung out, drank Red Stripe and threw together a mix of sexy proportions. Tech House and Techno abound. Due to the nature of tag teaming I'm not sure of the tracklisting but there are some great jems from Still Going, The Field, Pezzner, Onur Ozer, Dixon, DJulz, Seth Troxler, Christian Burkhardt, and a few others that escape me at this moment. Have a listen. See you at Chop Suey on Friday!"
Advance tickets
here!
$10 Advance/$15 Day of Show ($3 off if in costume)