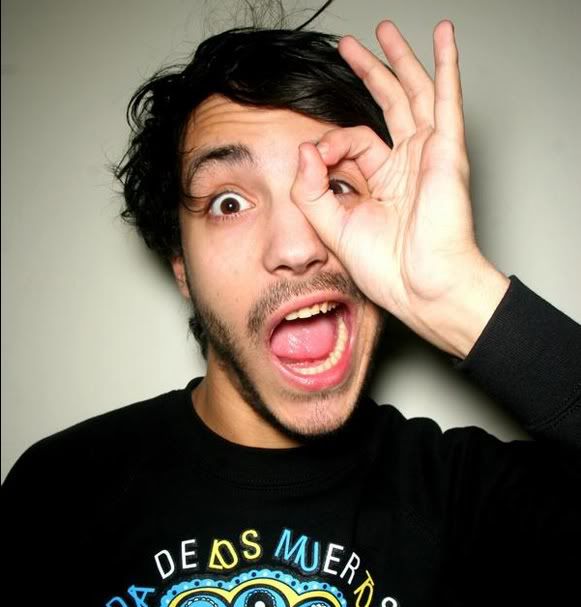 One question I kept asking myself as I listened to Brodinski's cosmically funky tracks and transcendental DJ mixes: is he really from this world?!
In just two short years, Brodinski has risen to explosive heights so quickly and emphatically. The high quality of his productions and the intensity of his DJ sets have rocked audiences and won universal respect among peers and DJs around the world.
Shameless is very proud to help bring Brodinski to Seattle this Saturday as headliner of our Disko Casse showcase at Chop Suey, as part of the 2009 Decibel Festival in Seattle.
While primarily affiliated with the mighty Boyz Noize and Turbo Recordings, Brodinski has released tracks on other venerable labels such as Fool's Gold, Kitsune, and Ed Banger since 2007. His debut track Bad Runner was a sensation on many respected music blogs in late 2007, which began the proverbial ball rolling of support from world-renowned DJs and artists such as Soulwax, Switch, and Erol Alkan. Brodinski has also remixed tracks from Bonde de Role, Klaxons, and Adam Sky.
Brodinski's original productions lean forward to the future without sacrificing visceral, sensual rhythm patterns familiar to all. This approach is best demonstrated in his collaboration with Noob on the recently released track on Turbo Recordings: "Peanuts Club". Here, the track begins with a driving, bass drum-heavy tribal beat generously drenched in dark yet sexy techno influences. Syncopated basslines, bells, exhaust leaks, and otherworldly industrial loops create an irresistible environment where momentum naturally ebbs and flows – and always satisfies.
Brodinski – Peanuts Club (Original Mix) - zShare
He also demonstrates a flair for dramatic tension on last year's epic track "Oblivion," which out of the gate thumps you over with in-your-face snares and kick drums – and eerie, extraterrestrial sounds from every direction. Wear headphones and turn up the bass during a listen of "Oblivion" and by the end of the track, you'll be completely (and happily) convinced that you've had some kind of close encounter.
Brodinski – Oblivion (Noob Remix) – zShare
Both tracks are available for high-quality purchase via
Beatport
- get them immediately.
Brodinski's DJ skills are equally impressive, as his track selections in the mix reflect the balance he achieves in his production between earthly rhythmic delights and what the future might have in store.
Brodinski – Smokemashine I (mix)
1. Mihalis Safras - Interafrica
2. Stimming - Short Story
3. Unknown - Se Saber (johnny D Rmx)
4. Daniel Melhlart - Fata Morgana
5. Ilario Naples - Play The Music (Pierce Rmx)
6. Ryan Crosson - Confiteria Del Molino
7. Heinrichs & Hirtenfellner - Tromp It
8. Ilario Alicante - Living Near Africa
9. Roman IV - As Time Goes Bye Bye
10. Mokkasin - Helazerhead (Basti Grub Rmx)
11. The Viewers - Streethorn (Ben Watt Rmx)
The dude's got tons o' energy, too! Here are a couple examples:
Here's a dizzying glimpse into a Brodinski set in Los Angeles, where everyone's clearly losing their minds:
Needless to say, expect more of the same at Disko Casse this Saturday at Chop Suey!
More information about Brodinski can be found in many places:
Brodinski's official blog
MySpace
Twitter
last.fm
Brodinski is performing this Saturday, September 26 from 12:30am to 1:45am during the Disko Casse showcase at Chop Suey as part of the 2009 Decibel Festival, brought to you by Shameless and Decibel.