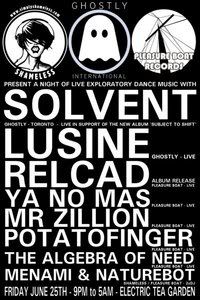 SHAMELESS SOCIAL #2
June 25th from 9pm- LATE late!!
ETG members only.
Bonkers/Pleasure Boat Showcase!!
This month we're focusing our attention towards the wonderfully quirky world of live electronics. Come early to catch Menami and Naturebot tag on the decks to warm up the floor. From there, live sets ALL night long with artists from the Ghostly International and Pleasure Boat Record labels. Check them out below...
-------------------
-------------------
Solvent
(Ghostly Int'l- Toronto) - Live
Solvent is Jason Amm, a robot music composer, analog synthesizer fetishist, and co-founder of the renowned Suction Records label. Born in Zimbabwe in 1972, Solvent currently resides in a room full of machines in Toronto, Canada. He is touring in support of his new album "Subject To Shift" out May 25th on Ghostly.
Solvent has been releasing his unique brand of synthesizer-pop music since 1997, and is best known for his releases on Morr Music (2001's "Solvent City") and Ghostly International (2004's "Apples & Synthesizers", 2005's "Elevators & Oscillators"). Solvent has created his own unique version of electro-pop: too elegent and sincere for the electroclash set, too complex and contemporary to sound like it was recorded in 1981, and too seeped in the time-honoured traditions of melody, songwriting and hands-on synthesis to be lost in the overcrowded world of IDM. Along with some notable remixes including Soft Cell, Alter Ego, and Adult., Solvent has also contributed standout tracks to several influential electronica compilations in recent years, including "Putting The Morr Back In Morrissey" (Morr Music), "Disco Nouveau" (Ghostly International), and "Misery Loves Company" (Ersatz Audio). His songs have also been licensed to several high-profiles DJ mix CDs, including Sven Vath's "Sound of the 5th Season" (Cocoon), Dr. Lektroluv's "Lektroluv 5" (541), and Death in Vegas' "Fabric Live 23" (Fabric London). Today, Solvent is widely regarded in the underground electronica community as being the forefront of electro-pop's return to form.
UK magazine The Wire recently described Solvent as part of a new generation of composers "gleefully blurring the lines" between modern techno and vintage techno-pop. Solvent currently records exclusively for Ghostly International, and has been touring extensively since 2004, having shared the stage with Adult., Legowelt, Bola, Junior Boys, Matthew Dear, Lusine, Lowfish, and more.
http://solventcity.com/
Lusine (Ghostly Int'l- Seattle) - Live
Jeff McIlwain has been producing his visceral, melodic strain of abstract electronic music as Lusine for 10 years now. Originally a Texas native, Jeff attended CalArts in 1998, studying 20th-century electronic music and sound design for music and film. Soon after, he met Shad Scott and put out his self-titled debut as Lusine for Isophlux. Since then, McIlwain relocated to Seattle and began steadily releasing his music on Ghostly International. As Lusine, Jeff is one of Seattle's most revered and internationally respected producers.
McIlwain has performed throughout the US and abroad, including a set at London's esteemed Fabric nightclub, and an ambient multimedia performance at Seattle's Triple Door in which he collaborated with video artist Scott Sunn. McIlwain has recently been involved in two film projects, co-scoring David Gordon Green's 2008 film Snow Angels (with Kate Beckinsale and Sam Rockwell), and scoring Kevin Bray's 2009 film Linewatch (with Cuba Gooding Jr. and Omari Hardwick).
McIlwain's 2009 release, A Certain Distance, has gone on to become his best reviewed and best selling album to date. In addition, 2009 has brought Lusine several high profile festival performances, including DEMF, MUTEK, Sonar and the Decibel Festival.
http://lusineweb.com/
Relcad (Album release party; Pleasure Boat Records) - Live
Relcad is a world-class and heavily-trained experimental house/techno musician that conjures up wild soundscapes and stunning atmospheres that combine the pulse of house music, the detail-centered tweaks of micro-dub, and the relentless energy of techno. Last year he released a track on Peloton Musique alongside a smattering of internationally-respected artists, of which Dave Segal of The Stranger stated the his "piece damn near stole the show, even from esteemed figures like Markus Nikolai, Jeff Samuel, Lusine, and Twerk."
Live PAs in the past have seen Relcad building unrelenting and momentous energy over a heavy bedrock of unclassifiable sounds and heavy bass. A Seattle artist who plays out infrequently, Relcad is one of the most remarkable and hidden gems in a city full of them. Relcad will be celebrating the release of his phenomenal new full-length Capital Island on Pleasure Boat Records, which will be available at the show and released nationwide the following month.
http://Relcad.com/
Potatofinger (Pleasure Boat Records) - Live
World-class sound mangler and beat mathematician Eli Hetrick, aka PotatoFinger, is an amazingly deft musician that has such a singular, unique, and developed sound that you'll swear you've never heard him before. Thick grimey bass, breakbeats cut to shreds, and details that take months to lay down.
Self-described as "polymorphic beat structures juggling/phasing/interspersing with atmospheric melodic concoctions", Potatofinger has been blazing around the music charts of KEXP for the last year and has been receiving nationwide airplay as of recent. Expect to hear much more in the future from him.
http://soundcloud.com/potatofinger
Ya No Mas (Pleasure Boat Records) - Live
"Hello ETG / ALC members allow me to introduce myself- My daylight persona's name is Aurelio but within the midst of the subversive twilight hours I am become YaNoMAs; I believe that YNM is the living metaphor of a restless angst that compliments to a breaking-out of a missunderstood culture based psyche. What I envision for my ETG set is of a sound that is temporal, brooding, bubbling and deeply intertwined with continuous complexities and variations of rapid fired low-subcycles; perfect enough to loosen the plexus and revert us back to the primordial state of future contentiousness's. My influences are my labelmates on Pleasure Boat Records and other committed Seattle artisan staples looking to create their own niche within the fabric of sound."
http://www.myspace.com/beetseeka
The Algebra of Need (Pleasure Boat Records) - Live
Lydia, aka The Algebra of Need, is an eccentric genius in her craft- the manipulation of live tonal clusters and tension used to build fugues of the future and meditations on hidden corners of the world. Some of the most haunting and brazenly bizarre music happening in Seattle, The Algebra of Need's music is still kept in balance by the alternating beauty and extreme sound manipulation present in her work. David Segal of The Stranger stated "the Algebra of Need is a maverick on the level of Aphex Twin and Raymond Scott." With almost no internet presence or scene involvement there's nothing that can be expected of her next performance.
Heads will be turned (360 degrees).
http://soundcloud.com/the-algebra-of-need
Mr. Zillion (Eccentric Bliss/Pleasure Boat Records) - Live
A concert violist and professional sound designer turned dance maverick, Mr. Zillion is a masterful producer (you may also know him by his breakbeat/ravecore persona Rave On It). His braindance and tech-house concoctions recall the slickness of Detroit techno and extend melodic funk energy to the horizons.
http://www.MrZillion.com/
Menami (Shameless) vs Naturebot (Pleasure Boat Records) - DJ set
http://www.simplyshameless.com/
http://www.soundcloud.com/naturebot