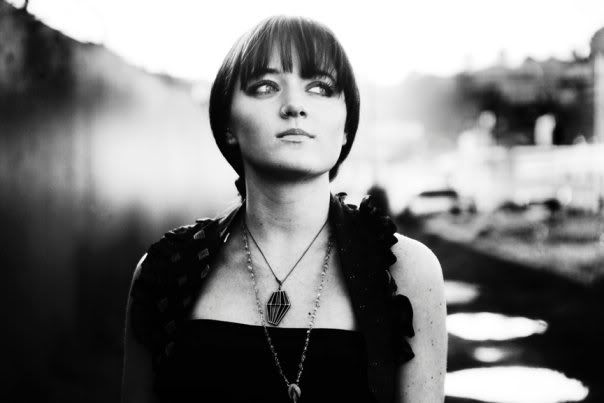 It's that time of the year – the annual
My Bloody Valentine is Shameless party
is Friday, February 12 at Chop Suey, and Shameless is very excited to have special guest J. Phlip of the Dirtybird crew as part of the action-packed lineup! Chosen as one of URB Magazine's Next 100 of 2009, J. Phlip has quickly established herself as a tried-and-true party starter and swifly rising producer and remixer.
J. Phlip (Jessica Phillippe) spent her teens dancing at numerous clubs and parties in her hometown of Champaign, Illinois and nearby Chicago, where she enjoyed the Windy City's iconic house and underground hip-hop scene. Her exposure to such legends as DJ Heather, Derrick Carter, and Sneak had a marked influence on her musical development and eventually inspired her to procure decks herself at age 19 while attending the University of Illinois, where she studied – and excelled – in the Systems Engineering program.
During her time playing out in Chicago about five years ago, she met Justin Martin at a gig. She traded one of her DJ mix CDs for his collection of his own tracks, which she eagerly started playing (and specifically learned how to use CDJs to play then out). A subsequent meeting soon afterwards with the rest of the Dirtybird crew in Miami – Martin, Sammy D, and Claude Von Stroke – solidified a friendship that eventually brought her out to San Francisco for gigs that, in turn, compelled her to make a permanent move to the Bay Area and join the crew officially. She loves the freedom of expression that the San Francisco scene offers to play however she wants, whether it be "weird or harder or deeper" and currently plays every Thursday in San Francisco at the legendary Endup and at quarterly Dirtybird parties in SF at Mezzanine.
Now a fully-fledged Dirtybird artist, she has toured with Claude Von Stroke and released solid remix tracks on the label. As her Soundcloud page attests, she describes her musical stylings in a myriad of ways – but usually attaches the prefix "hybrid booty" onto each description: "hybrid booty techno" and "hybrid booty electro." She explains that Claude Von Stroke originally tagged the term upon her DJ mixes, so she decided to use it on the multifarious genres she favors. But, and more simply put, she just likes "to keep the music fun and BOOTY shakin' whether it be techy or housey or dubby or whatever" in her DJ mixes and original productions.
J. Phlip's productions fit in comfortably with the signature Dirtybird tech-house sound that launched her labelmates Claude Von Stroke, Tim Green, and Justin and Christian Martin into worldwide notoriety. Take her remix of
Luca Lozano's Berlinetta"
– it maintains a solidly Dirtybird-like backbeat and bassline while throwing in waves of subtle yet powerful tribal syncopated beats and oceanic synth fills that weave in and out of the track. She takes this pattern a few steps further with her remix of the Claude Von Stroke/Bootsy Collins collaboration
"The Greasy Beat."
Here, an incessantly funky and blippy beat and bassline is ever-prevalent and builds ever-so-subtle momentum, punctuated with periodic old school James Brown-esque that unfolds into a Bootsy-powered preaching to the masses that suddenly, drastically, peaks and unleashes the floodgates that is sure to make the dance floor go apeshit.
Her last appearance in Seattle was during last year's Decibel Festival, where she rocked the waters on the Uniting Souls boat party (even while braving the flu through it all). Her appearance at My Bloody Valentine Is Shameless may be the last Seattle appearance of J. Phlip for awhile, as she's planning to move to Berlin this spring for five months to spread her gospel even further. Based on what we've heard thus far, look for J. Phlip to do even bigger things in the next few years.
Listen to J. Phlip's DJ mixes and remixes at:
soundcloud.com/jphlip
Learn more about J. Phlip at:
www.myspace.com/jphlipmusics
www.myspace.com/jphlip
www.twitter.com/jphlip
www.dirtybirdrecords.com
www.motherbirdagency.com
My Bloody Valentine Is Shameless is Friday, February 12 at Chop Suey!!
This year it's all WEST COAST LOVIN'!!
TWO ROOMS OF MUSIC! DRESS TO EXPRESS!
♥ ♥ ♥ ♥ ♥ ♥ ♥ ♥ ♥ ♥ ♥ ♥ ♥ ♥ ♥ ♥ ♥ ♥
HEARTBREAKERS HALL:
Drumcell (Droid Behavior) LA
J.Phlip (Dirtybird) SF
Recess (Shameless)
Menami (Shameless)
LOVERS LOUNGE:
Jen Woolfe (Shameless, SF)
Robb Green (Shameless, SF)
214 Live! (Mikrolux, Pyramid Transmissions, Touchin' Bass, SEA)
Levi Clark (Shameless)
Adlib (Shameless)
Live visuals by Loopid
Pics by Dave Matthews
Heart shaped pinata smashing at midnight!