Hope to see you out this weekend!
_______________________________________
Bug in the Bassbin
Knifehandchop
By Donte Parks
Dance music is supposed to be fun. Which isn't to say that there's no artistry or thought that goes into it, but a lot of musicians get so caught up in their "grand vision"—in inherently geeky production techniques and mountains of jargon—that they forget what inspired them to create in the first place. Overthinking isn't necessarily a bad thing, but it is odd when discussions of dance music leave out any mention of dancing. That's what makes producers such as Knifehandchop so refreshing: His intelligent genre amalgams hide within a sweet candy (raver) shell, appealing to both headier and dance-oriented sensibilities.
Knifehandchop (real name Billy Pollard) rose to fame out of Toronto, with early tracks such as "DanceMix2000," an indulgent work that coupled pop-music snippets with raved-up hardcore. His string of sometimes-legal releases led to KHC becoming a staple of Oakland's Tigerbeat6 label, where he combines electro, breakcore, hiphop, and ragga on his most recent full-lengths.
Rockstopper, KHC's collection of new and previously released Tigerbeat6 material, buckled under the weight of its excesses, its relentlessness making for an exhausting yet entertaining listen. The 2004 follow-up, How I Left You, maintained the same ambition but made for a more cohesive listen, taking cues from dancehall and techno on some tracks, bludgeoning with its crazed snares and chopped samples on others.
Since then, Knifehandchop has moved away from the album format, returning his attention to the world of singles and 12-inches and giving the breakcore tendencies a rest. "Dirty New York" replaces the dancehall of many KHC tracks with hypersexual hiphop, hinting at ghettotech but existing as a booty breed all its own with its repeated refrain of "How you know dem hos?" "Weed Wid Da Macka," a split release with party favorites Modeselektor, is a return to form, with Ninjaman's vocals forming the basis for the nerd-ragga gem. Most recently, KHC released his remix of Dan Le Sac vs. Scroobius Pip's "Thou Shalt Always Kill," an accessible dirty electro number that should find popularity outside of the traditional Tigerbeat6 demographic. The creative departures are no doubt informed by Math Hooker, and the post-genre dance parties he's been throwing in Toronto for the last two years.
One of the most obvious elements of Knifehandchop's music is his adoration for each of the genres that compose his tracks. Treating those genres as musical Legos, Knifehandchop's live performances are incredibly dynamic affairs, showing off a more rave-informed mashup experience by touring his entire catalog. Knifehandchop played as part of a Tigerbeat6 showcase on his last visit to Seattle, upstaging label head Kid606's booty-IDM with his varied set and causing a rush to the merch table. Expectations are high for his return, but between the new material and increased party-rocking experience, Knifehandchop is all but certain to please, whether your purpose is to dance or deconstruct.
The Stranger
_________________________________________
The Stranger Suggests
Broken Disco II
By Eric Grandy
(Club Night) Last month's debut of Broken Disco was a blast. But it was just a taste of what Seattle's electronic scene—represented here by Decibel, Fourthcity, Shameless, and Sensory Effect—can pull off. Tonight, the bass and the BPMs will pump courtesy of booty-breakcore prodigy Knifehandchop and NYC's low-end maestro Passions. With local support from SunTzu Sound in the main room and ndCv and Nordic Soul in the 21-plus "make-out room," this month's installment should be even more off-the-wall fun than last time. (Chop Suey, 1325 E Madison St, 324-8000. 9 pm—4 am, $10/$6 after 2 am, 18+.)
The Stranger Suggests
_______________________________________
The Seattle Weekly
Broken Disco II
By Rachel Shimp
OK, we were wrong about British rock band the Klaxons, who were said to be bringing rave culture back into the spotlight, but you can't blame aging partiers for hoping that pop culture can again take on that futuristic sparkle. But judging from the pages of fashion mags like Nylon, where models in neon sport multicolored stars on their eyelids, or from the tangible energy I felt in the dance tents at Coachella this year, it already has. Last month's inaugural Broken Disco party—a rager thrown by four local promotion/DJ crews—really galvanized electronic music lovers and dancers beyond the usual crowds at venues like the Baltic Room and CHAC. Two factors, an 18+ policy and after-hours that ran until 4 a.m., brought a massive crowd bent on having a good time, glowsticks and all. It was the first party of the year to carry the electrical current of a Decibel Festival event, where unfamiliar faces smile at you and world-class DJs (John Tejada last time) get the dance floor cracking. Tonight's on the "Idol Worship" stage are headliners Knifehandchop, an innovative Tigerbeat6 producer with a strange name; Passions, who's helping lead the charge of French electro/new wave on the Kitsune label; and local MVPs SunTzu Sound. The "Cozy Make-Out Room" has live sets from Nominal I, ndCv, and Nordic Soul, and the "Fucking Afterhours!!" goes off in style with Kris Moon, Naha, and MC Anton Bomb. If you think the rave scene is for kids, the techno scene for geeks, and the Belltown scene for bros, but love the hell out of dance music, this is the night you've been waiting for.
The Seattle Weekly
_______________________________________
Friday May 11th
Broken Disco - Episode Two!
Click pics below for details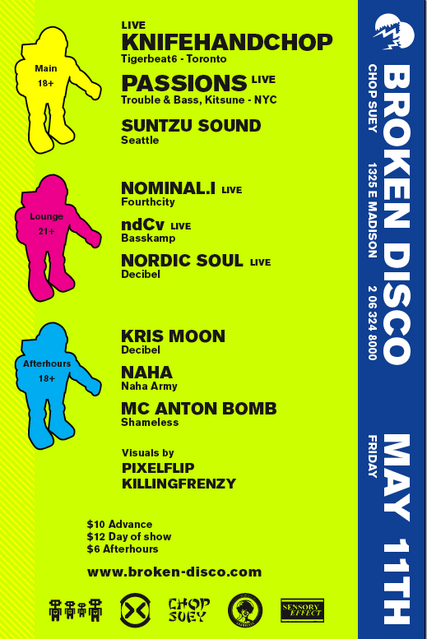 Get tickets now!
_________________________________________
ALSO>>>
Saturday May 12th
Shameless @ The See Sound Lounge
Click pic below for more details
Surprise Guest DJ (NYC)
Recess (Shameless)
MC Anton Bomb (Shameless)